Flagship 50th anniversary issue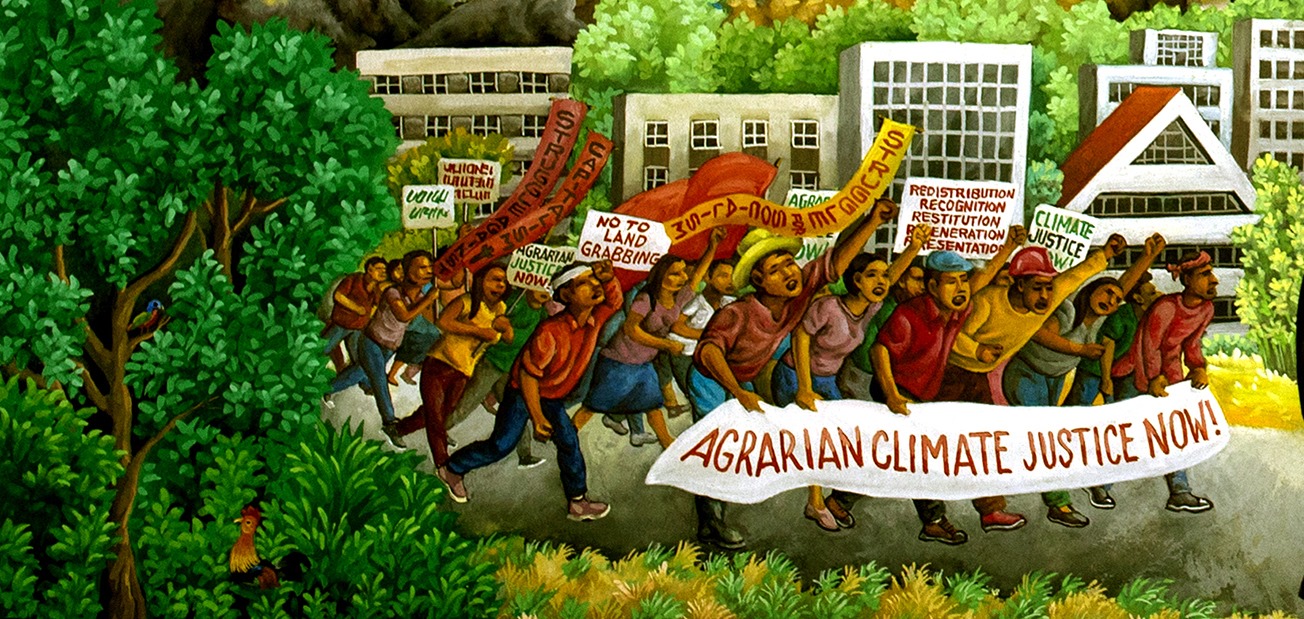 The Journal of Peasant Studies was founded 50 years ago, in 1973, amidst an oil price crisis, the end of the gold standard and the beginning of the debt crisis, an agrarian famine in Bangladesh, and what some consider the last of the 'peasant wars'. Twenty years later, when the peasant movement La Via Campesina (LVC) was born in 1993, the world was in another cataclysmic moment: the end of the Cold War consolidated the neoliberal orthodoxy that had already wrought violence in the form of structural adjustment policies that dismantled public institutions, deregulated trade, and provoked resistance – including transnational alliances across rural social movements. Today LVC brings together 182 organisations of peasants, small farmers and fishers, and rural workers from 81 countries under the banner of food sovereignty.
We mark this milestone – 50 years of JPS and 30 years of LVC – with this special collection of papers. The loosely-connected compilation consists of regular research articles, including a sign-off piece by outgoing Editor-in-Chief Saturnino M. Borras, Jr; our editors' articulation of the need for continuity in the journal as well as agile responsiveness to converging and compounding crises across rural worlds; and Tania Murray Li's critique of the persistent and problematic dualism drawn between peasant farmers and corporation, in a paper which, as she observes, illustrates the 'iterative back and forth' between theory and empirical investigation which is a hallmark of JPS.
The substantial Grassroots Voices section in this issue is dedicated to reflections on lessons from 30 years of LVC, with scholar-activists and activist-scholars from within and outside the movement in conversation with one another, in the form of joint reflections and interviews. Commentary papers present reflections from past Editor, Henry Bernstein; a world-historical contextualisation of the current crises by Phil McMichael; and an agenda articulating the agenda and manifesto of the Collective of Agrarian Scholar-Activists of the Global South (CASAS).
We as the Editors of JPS are humbled and somewhat awed by the responsibility of holding this precious space and resource, and are grateful for the guidance of our Editorial Collective and the support and solidarity of our International Advisory Board. JPS is truly a collective enterprise, with dynamic teams of deeply committed scholars now taking responsibility for its distinct sections: Grassroots Voices, Book Reviews and Key Concepts in Critical Agrarian Studies series. Across all these, the journal benefits from the invigorating voices and visions of early- to mid-career researchers, mostly from the Global South, some of whom sustain organic links with activist movements, reflecting the journal's political commitments.
The continued traction of the journal forms the centre of a growing ecosystem of JPS activities and outputs – an interactive website (www.peasantjournal.org) as a hub for conversations, a social media presence, an Agrarian Politics podcast, the Agrarian Conversations seminar programme, and an annual Writeshop in Critical Agrarian Studies and Scholar-Activism. As we move through this year, and mark half a century of development from peasant studies to critical agrarian studies, we look forward to robust and critical engagement across these platforms and spaces with the global JPS community.
This special issue is freely accessible:
Politically engaged, pluralist and internationalist: critical agrarian studies today
Saturnino M. Borras
Life on the land: new lives for agrarian questions
Annie Shattuck, Jacobo Grajales, Ricardo Jacobs, Sergio Sauer, Shaila Seshia Galvin & Ruth Hall
Dynamic farmers, dead plantations, and the myth of the lazy native
Tania Murray Li

Grassroots Voices
'Our struggle is for humanity': a conversation with Morgan Ody, general coordinator of La Via Campesina International, on land, politics, peasant life and a vision for hope in our changing world
Morgan Ody & Annie Shattuck
Thirty years of sowing hope to globalise the struggle: women and youth of La Via Campesina in the construction of food sovereignty – a conversation
Francisca Rodríguez & Andrea P. Sosa Varrotti
'The food sovereignty movement is not part of my life, it is my life': from local to international, reflecting on Korean women peasant organizing – a conversation
Geum Soon Yoon & Martha Jane Robbins
Being a peasant is about resistance: West African peasant movements and the struggle for agrarian justice
Ibrahima Coulibaly & Jacobo Grajales
It wasn't an intellectual construction: the founding of La Via Campesina, achievements and challenges – a conversation
Paul Nicholson & Saturnino M. Borras Jr.
Shaping our collective futures: activism, analysis, solidarity
Nettie Wiebe
Articles
The feminist dimensions of food sovereignty: insights from La Via Campesina's politics
Rita Calvário & Annette Aurélie Desmarais
The politics of transnational fishers' movements
Elyse N. Mills
La Via Campesina – transforming agrarian and knowledge politics, and co-constructing a field: a laudatio
Saturnino M. Borras Jr

Commentaries
Critical agrarian studies and crises of the world-historical present
Philip McMichael
Transforming critical agrarian studies: Solidarity, scholar-activism and emancipatory agendas in and from the Global South*
Diana Aguiar, Yasmin Ahmed, Duygu Avcı, Gabriel Bastos, Bosman Batubara, Cynthia Bejeno, Claudia I. Camacho-Benavides, Komal Chauhan, Sergio Coronado, Somashree Das, Mercedes Ejarque, Zeynep Ceren Eren Benlisoy, Diana Isabel Güiza-Gómez, Adwoa Yeboah Gyapong, Hao Phuong Phan, Rahma Hassan, Carol Hernández Rodríguez, Huiying Ng, Sardar Babur Hussain, Sinem Kavak, Thiruni Kelegama, Amit John Kurien, Daren Shi-chi Leung, Tania Martínez-Cruz, Boaventura Monjane, George Tonderai Mudimu, Deniz Pelek, Tsilavo Ralandison, Andrea P. Sosa Varrotti, Dzifa Torvikey & Diana María Valencia-Duarte
JPS at 50: some personal reminiscences
Henry Bernstein

Book Reviews
Upland geopolitics: Postwar Laos and the global land rush
by Michael B. Dwyer, Seattle, University of Washington Press, 2022, xvi + 232 pp., UK 25.99 (pb), UK 89.00 (hb), ISBN 978-0-295-75049-1
Christian Lund
Plantation life: corporate occupation in Indonesia's oil palm zone
by Tania Li and Pujo Semedi, Durham and London, Duke University Press, 2021, 244 pp., $25.95 (hardcover), ISBN 9781478013990
Miryam Nacimento