Introducing the Artivism Review Series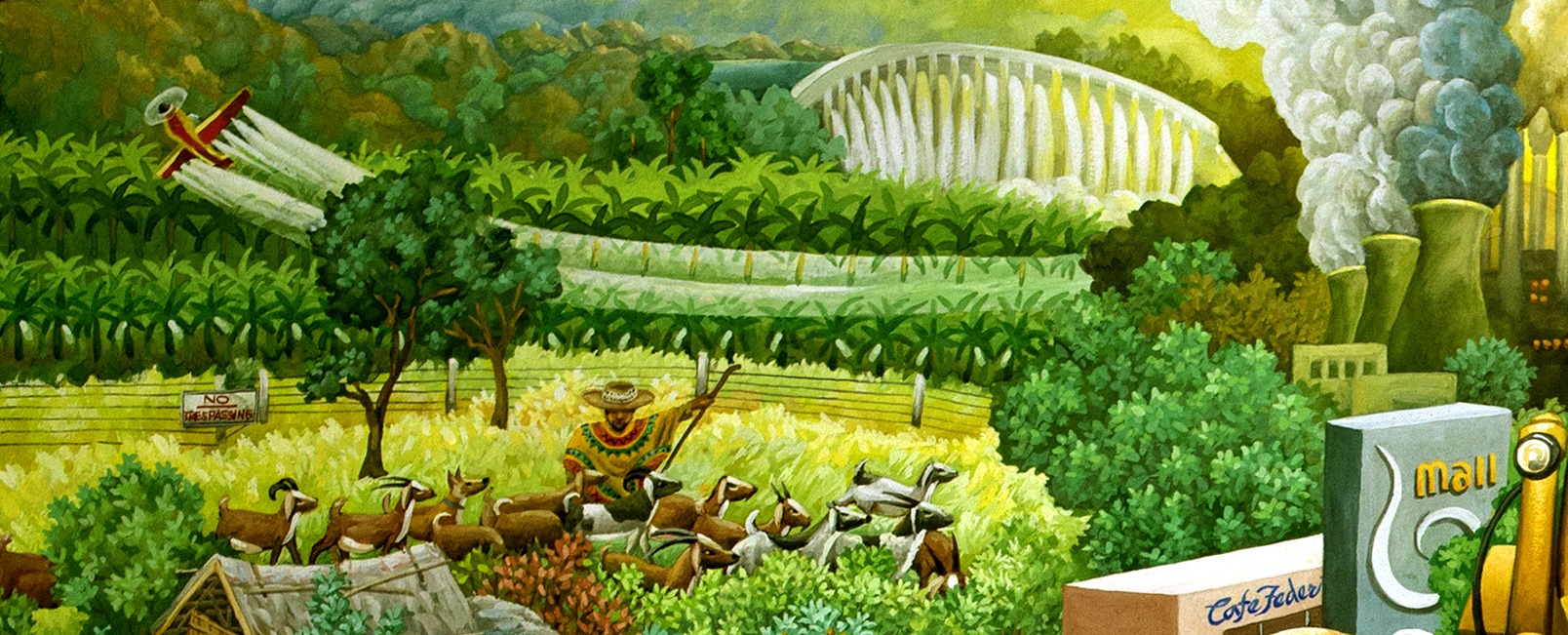 Introducing: Artivism Review Series
Alberto Alonso-Fradejas, Jessica Barnes and Ricado Jacobs
JPS 2018-2021 Reviews Section Editors
August 2022
The JPS community and readers are surely familiar with the thought-provoking artwork that features on the journal´s covers, posters, and Agrarian Conversations website (https://peasantjournal.org/). Through this critical aesthetics, JPS has long honored the rich and global tradition of artistic activism, or 'artivism', in the realms of agrarian and rural politics.
Today, we are excited to expand JPS´ concern with, and respect for, artivism with the addition of an ´Arts and Agro-Environmental Justice´ review series to the journal. In this new series within the JPS review section, engaged scholars, including artivist scholars, are invited to discuss the work and trajectories of contemporary artivists in the fields of agrarian, climate, environmental and food justice. As Gill (2008, p. 68) reminds us, "problems of hegemony involve not only questions of power, authority, credibility and the prestige of a system of rule but they also involve the political economy and aesthetics of its representation in culture and its media." Indeed, the arts can be a unique tool to frame and reframe the narratives and ideologies that shape the distribution of environmental and material benefits and burdens among different groups. For instance, corporate giants in the global food system have fundamentally transformed the production, taste and aesthetics of food tied to supermarkets and the broader food chain. But for the members of theCenter for Genomic Gastronomy, whose LOCI Food Lab is reviewed in this forum, "the arts can be welcoming and a way to make room for unlike people or unlike ingredients to come together in a shared space and to navigate differences. This can be part of a larger toolkit that activists, farmers, food producers and policy makers can use in struggles for food justice and sustainability" (in Barnes, this collection).
The artivist works in this new reviews series will be expressions of critical art, or that which according to Mouffe (2007, p.5), "makes visible what the dominant consensus tends to obscure and obliterate." Such artwork, which can take on multiple forms, aims at "giving a voice to all those who are silenced within the framework of the existing hegemony." This is, precisely, what Iles (this collection) argues about the paintwork of JPS flagship artist BoyD: "he not only conveys the experiences of rural life, dispossession, and ecocide to people living in urban centres, but makes the presence of peasant communities and Indigenous peoples impossible to ignore".
To launch the new Artivism Review Series in JPS, this special review forum gathers five exceptional (artivist) scholars to discuss five different expressions of critical art from around the globe. These include performance art in Beijing, an interactive installation in London by a U.S. collective with nodes in Asia and Europe, a documentary film from Turkey, the paintwork of a Filipino artivist, and a piece of interactive digital art that originates in the USA with contributions from across the world.
In "A Platform Between Field and Kitchen: Country Fair and the Beijing Farmers' Market", Caroline Merrifield reflects on how the Beijing Farmers' Market of today stemmed from a piece of happening artwork called "Country Fair" that was organized by HomeShop collective artist Emi Uemura in 2010.
Jessica Barnes interviews the members of The Center for Genomic Gastronomy who are behind the LOCI Food Lab. This an experimental media artwork that get us thinking about, but also seeing, smelling and tasting the virtues of the food from our very own bioregions.
In Gone with the Hazelnuts, script writer and scholar Melek Mutioglu Ozkesen and film director Ercan Kesal take us on an audio-visual trip to Melek´s village in Turkey, to reflect on the cultural and socio-economic changes brought about by the transition to capitalist farming.
Tram Luong discusses how the interactive and digital Feral Atlas: The More-than-Human Anthropocene, edited by Anna Tsing, Jennifer Deger, Alder Keleman Saxena, and Feifei Zhou, explores the interface between the human and nonhuman worlds. This dynamic presentation, she argues, is a meaningful way of "revealing the infrastructural effects of human behaviors that make the Anthropocene, despite its name, always a multilevel, inter-species, and patchy phenomenon" (Luong, this collection).
Last, but definitely not least, Alastair Iles comments on the works of, and holds a conversation with, Filipino visual artivist BoyD whose paintwork features on diverse JPS materials. Iles explores BoyD's artistic production, trajectory and views as a "sociocultural activist."
We hope the Artivism Review Series will contribute to ongoing efforts to communicate academic findings in formats other than words and texts, to tend bridges between concerned artists and engaged scholars for cross-fertilization, and to inspire research and debate.
References
Gill, S. (2008). Power and resistance in the new world order. Basingstoke and New York: Palgrave Macmillan.
Mouffe, C. (2007, January). Art as an Agonistic Intervention in Public Space. Open! Platform for Art, Culture & the Public Domain. www.onlineopen.org/​art-and-democracy
Pls. subscribe: http://eepurl.com/​dvqfuT  for regular update, including about free access articles
Follow us on:
https://twitter.com/peasant_​journal